Community Service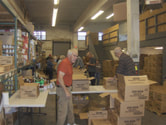 Members generously offered their time to sort food at the warehouse facility in Vancouver. The 9 members worked from 9:00 to 12:00 and sorted 22 pallets of food. Afterwards, they met at Billy's Blues Bar & Grill for lunch. A big thank you to the following members: Roger & Kathy Green, Bob & Carma Huset, Tom Ryan, Gary Swartz, Tom Foster and Bob & Sherry Rusunen.
​
Monthly Food Donations
​Joyce Swartz reported that Nov 100# and Dec 9# of food was collected bringing our year total to 2311#'s!!
---
Letter of Appreciation
from the FISH Food Bank for our food collection and sorting participation.

Click on items to enlarge
Retirement Center Visits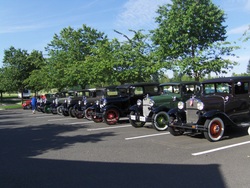 Click on photo to enlarge
During the year Volcano A members visited local area Senior Retirement Centers to share their Model A's and company with the residents. Our members always have an enjoyable time talking with residents and listening to their stories of long ago when they rode in a "new" Model A or learned to drive one. Also, there have been situations where some of the residents have provided interesting tips on repairing or restoring a Model A from the graveyard. Our club members enjoy meeting with these retired senior citizens.
---
This page last updated 3/26/2018